Speaker Name:
Keynote Speaker: Ian Sherr
Start Time:
Thursday, May 8, 2014 - 2:00pm
End Time:
Thursday, May 8, 2014 - 5:00pm
Location:
Stevenson Fireside Lounge
The History Department Undergraduate Research Symposium is an annual event held each spring that recognizes the exceptional research being conducted by UC Santa Cruz history undergraduates. The symposium provides undergraduate students with a unique opportunity to share their research with a larger audience, as well as provides a forum for students, faculty, and the university community to engage in scholarly discussion. In addition, a UCSC history alumnus is invited each year to deliver a keynote address aimed at undergraduate research.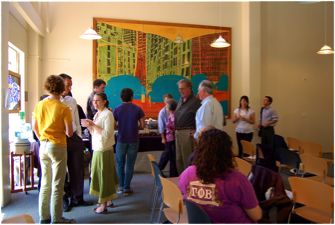 The 7th Annual Undergraduate Research Symposium will be held on Thursday, May 8th, 2014, 2-5 pm, in the Stevenson Fireside Lounge. The event is free and open to the public:
2014 Keynote Speaker - Ian Sherr, Reporter for The Wall Street Journal. Class of 2005.
Writing History As it Happens: Daily Journalism From A History Major's Perspective